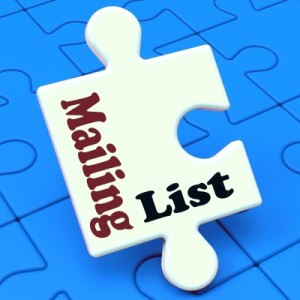 Having your local business online is much more than simply selling your product. It is also about building relationships and developing your customers into more than a one time client. Once you have a customer, it is so much easier for you to remain a go to shop since they already have experienced your services. Customers are expensive to find, so keeping them should be a priority for you. One way to do that is by having a mailing list that will be in their email box every time you want to reach them.
Mailing lists are a great way to stay in contact with your customers – new and continuing. You can talk to them and build rapport. Adding a mailing list for your online customers is easy with email list plug in and services like Mail Chimp or Aweber. Use it along with your snail mail campaigns for maximum reach to use customers.
Here are some tips to help you grow your mailing list:
* Add an option in your local shop to sign up for email messages. Great for impulse sales and promotions.
* Add a sign up box on your website with a discount coupon to encourage follow through
* Offer something for free in exchange for a follow through sign up
* Add a tab on your Facebook page to encourage signups
Think about different ways that a company got you to sign up and receive their emails and tailor your offering sin a similar manner. Then use it wisely to reach those current and new customers with promotions and reasons to use your business.
Image courtesy of freedigitalphotos.net and Stuart Miles