As a small business owner, chances are you are always looking for ways to develop and market your business. That is just what we are supposed to do! Facebook is a huge opportunity for business marketing today, as long as you do it smartly.
With over 1.3 billion active users and over 48% logging in on a daily basis, learning as much about this social tool is smart. Facebook makes it easy to target your demographic audience with your business page.
I already shared with you part 1 of this series about marketing your business using your Facebook Profile. Today, I want to move into a business page and share with you some tips for marketing there.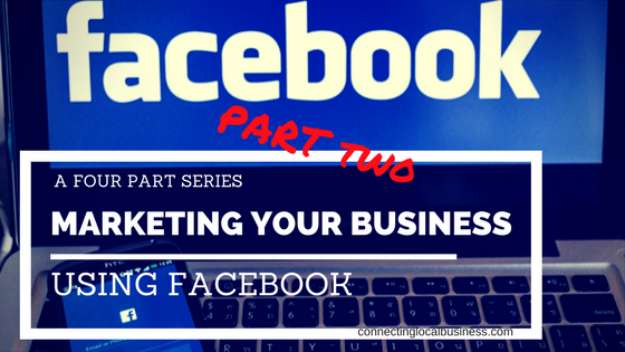 10 Tips for Marketing Your Business with Facebook Pages
1. Create a page
That is your starting point, so don't put it off. It is quick, easy and free. You can have a Facebook page for your business up and running in less than an hour, and you can refine it as frequently as you wish.
2. Add a cover and a profile picture
Some graphic representation of your business (a photo or your logo, for instance) will create brand awareness for that image. People that have visited your Facebook Page will have a connection with all of the information they have received there whenever they see that it. Include a Call to Action if you can do it briefly.
3. Add a Call to Action
Use Call to Action buttons or links in your posts and in ads you create. Responses to a Call to Action help build your fan base and create alternative ways to market to those fans.
4. Add a description of your business
This is the first place visitors will see information about the nature of your business. You have two places for descriptions – a short one (155 characters) and a long one. Use both.
5. Add contact information to encourage prospects to find you
Add your address, telephone number and website URL to your page. Some businesses will use a Facebook Page in lieu of a website. If you have a website, a leading function of the Facebook Page will be to drive traffic to it.
6. Post on your personal Facebook Profile to acquaint your friends with your Facebook Page
Ask them to Like your Facebook Page. (Another Call to Action!)
7. Add the ability for customers to rate your business
Showing off your great reviews and star ratings is a great tool to help build your business.
8. Start posting and do it often
You increase the chances of any given Facebook fan seeing your post when you post at least two or three times per day. Vary the times and track what works best for you as far as engagement.
9. Do not post only ads on your page
Your main reason for creating the page is to increase your business. An advantage of Facebook over most marketing tools is the ability to build a relationship with prospects. Give them reasons to like you. Give them entertaining and informative posts, as well as a few ads sprinkled in. But most importantly, give them Value!
10. Allow others to post to your Page
This provides an opportunity for two-way communication with prospects – another step in building a relationship rather than merely dispensing ads. There are options available to provide monitoring so you can protect your page from inappropriate language, for example.
Start with your Facebook Page to grow brand awareness and respect from visitors to your Page. This one tool can start an exponential growth spurt by directing them to your website or email list.
These tips for Marketing Your Business with Facebook Pages should surely help increase your traffic and, most importantly, your conversions.