Writing on a daily basis can be tough. Especially when your profession and income come from writing. Some people say they get mentally blocked and cannot write a word. Then the more frustrated you get, the less you can focus and produce the content you need.
Do you get writer's block? For bloggers that phrase has been renamed Blogger's Block. Maybe you have experienced it off and on. Perhaps it has kept you from publishing posts and creating content, even though you were on a strict deadline.
If that has happened to you, you may be interested to know that a lot of authors don't believe that writers block really exists.
"All writing is difficult. The most you can hope for is a day when it goes reasonably easily. Plumbers don't get plumber's block, and doctors don't get doctor's block; why should writers be the only profession that gives a special name to the difficulty of working, and then expect sympathy for it?"
Philip Pullman
Respected authors Terry Pratchett, Barbara Kingsolver, Dylan Thomas, Stephen King and Ernest Hemingway all agree. They have all stated at one time or another that writer's block really doesn't exist. Not only that, but the thought of writer's block can be overcome.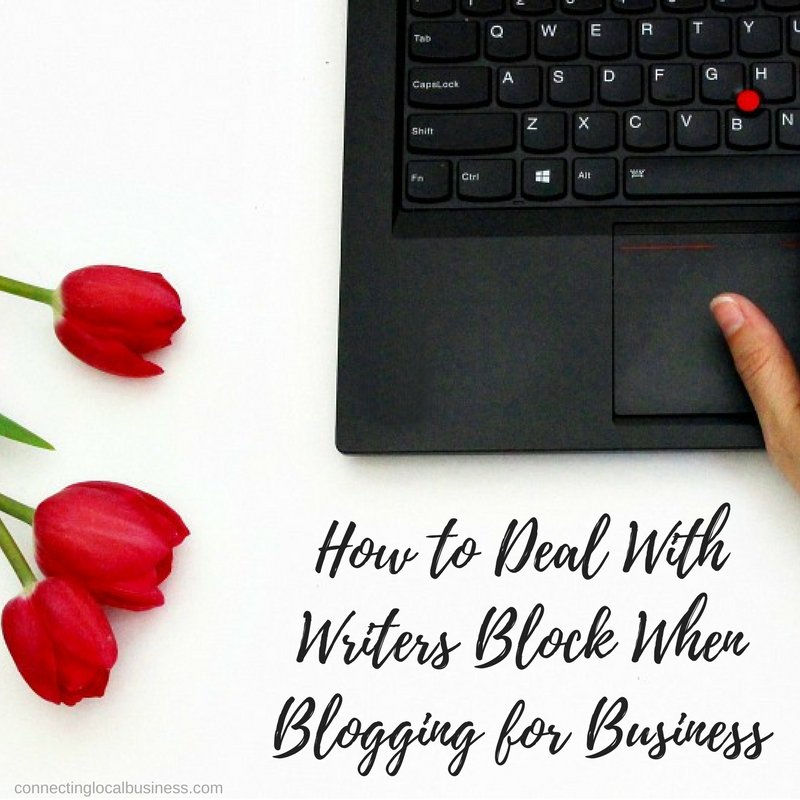 How to Deal With Writers Block When Blogging for Business
Use the following tips that have been proven to jump-start a befuddled mind the next time you can't put a thought together for your blog posts.
• Review old blog posts for ideas.
• Expand a past article for more clarity and different keywords.
• Review a book or article that you read and expand on the ideas.
• Type "your niche tips" into the YouTube search engine. Replace the words "your niche" with the name of the market you are in. Watch videos for inspiration.
• Turn any videos you have created into posts.
• Check out the nearest magazine rack for inspiration, browsing magazines in your niche.
• Just start writing. Take your pen in hand, or start clacking the keys. Don't worry about what you are writing. Just write anything and everything that comes to mind. Do this for at least 30 minutes.
• Visit your favorite websites, those that inspire you.
• Hit the library, or your personal bookshelf. Physical books are sometimes overlooked as sources of writing inspiration.
• Make a Top 10 post revealing resources, books, tips or strategies relevant to your industry.
• Keep a notepad with you at all times. You never know when inspiration will strike. Using this strategy, you can always whip out your handy notepad when the ideas just won't come.
• Browse through your readers' comments.
• Send an email to your list. Ask them exactly what they want you to write about.
• Read today's headlines at News.Google.com. Hijack a current news story that you can link to your products, services or niche.
• Cheat. See what others are writing about in your market. Expand on their idea.
If you are feeling a bit blocked on what to write for your business blog or even a book you are writing, try working through it using some of these tips. It should help open those brain cells and get some ideas flowing through.