If you're like most businesses developing your online brand and website is an important factor to building your business. The change from strictly local to online has been steadily increasing over the past 15 years and we have really seen a remarkable change over just the past five years. It is only going to continue to grow as technology changes.
This leaves a lot of local businesses in a vulnerable position. How to compete and still be a player in the local market but yet reach outside of your market area and be effective with sales promotion is something business owners continue to juggle.
That's one of the reasons why I love to work with local merchants and share with them the knowledge of growing your business online.
One of the things we've been learning in these posts is about search engine optimization and how it can work for your small business website. I encourage you to go back through and read some of the posts on this subject.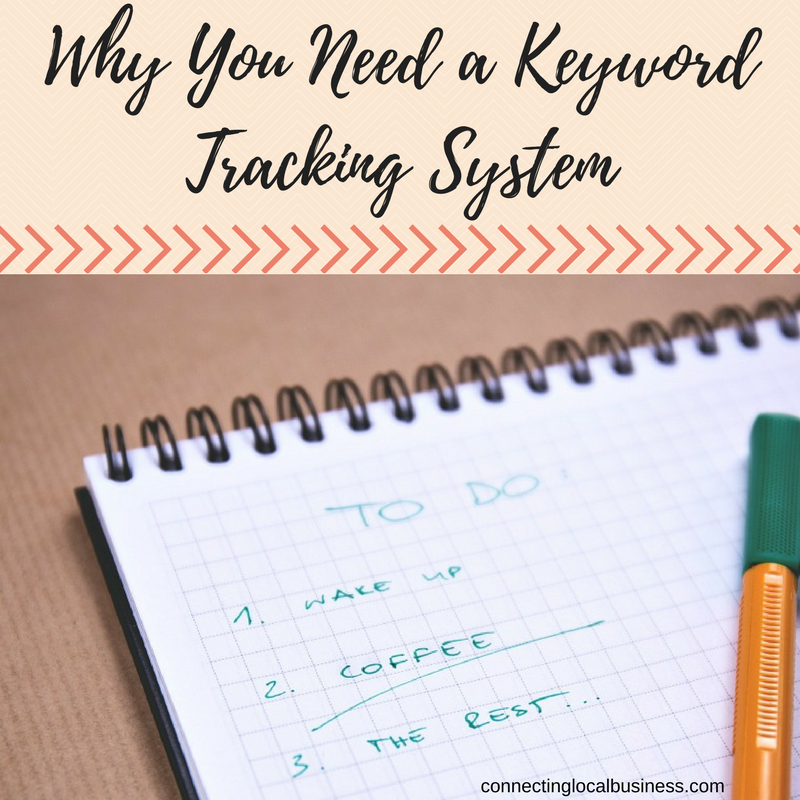 Search engine optimization talks a lot about and uses keywords. Optimizing your keywords is an important factor for SEO.
One of the things we find with keywords is that there are multiple keywords and key phrases that fit for our business. Keeping track of those keywords with a stsyem can help you with the optimization of your site.
So what do I mean by keyword tracking system?
This is basically a spreadsheet for some type of a system that you set up to keep track of the keywords you want to use, where they are being used, how, and when they are used. Don't forget seasonal keywords as well.
The reason we want to track our keywords is twofold.
First it is just so that we don't have to research every single time we write a post or do social media post. This gives us the ability to put them all into a spreadsheet so they are easily accessible.
Second reason is so we don't over utilize The same keyword or key phrase over and over again.
For instance, if we sell women's accessories, we don't want to use the keyword "women's accessories" over and over again in our copy. Why?
For one, the keyword women's accessories is a highly competitive and you would have a tough time competing in a saturated market.
Plus, being repetitive is not necessarily going to bring more traffic. You need to branch out into higher more in depth detailed keywords. This could be keywords such as monogram necklace, buffalo plaid scarf, etc.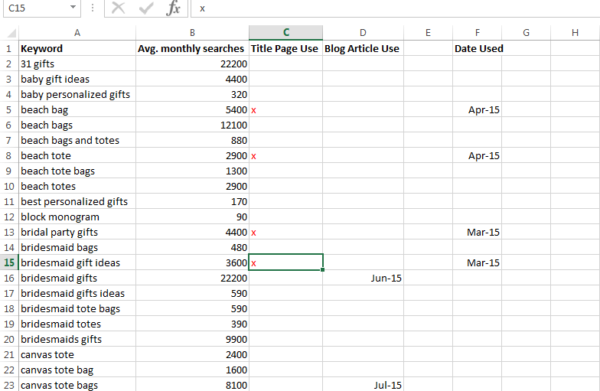 On our spreadsheet we can use columns simply that show the keywords we want to use; a column for where it's used, for instance in a blog post, title page, social media. Also a column for when it was used, and maybe a column for when that page was updated. That way we are on top of keeping our pages fresh too.
By using a simple sheet like this you will not be over utilizing the same keywords plus you can keep track of how you're using those keywords.
I think we should also add a column to see how well it's working. Do you get more clicks on a specific keyword?
A simple tool like this will help you develop your Keyword system and manage them for an easier utilization on your website and social media.
Do you have questions about how to make this work and your business? Give me a call and let's chat, either in your office or on the phone.