A few months ago I shared a post and some tips on how to plan your social media campaign where I talked about why your business needs to be on social media. I also included some tips on planning your campaign.
Today, I want to talk a bit about a planning calendar and why it is a great choice to help your business be successful with social media integration.
The big secret about being successful on social media is not the number of followers but the amount of engagement you get. In order to achieve that you need to be consistent and find the type of posts that your followers enjoy.
For that reason, I have come up with a daily social media post planner where you can plan out your posts, track engagement, track followers, and even jot down some thoughts for future posts. It looks like this…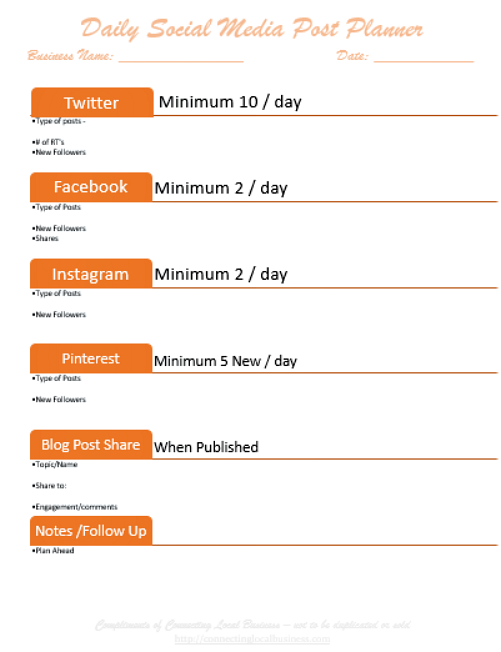 It doesn't have to be hard to use social media. You just have to plan it out. Make time at the beginning or ending of the week to plan for your next weeks posts. Work on your images in bulk so they are ready to be used. Share others work as well as your own. Engage, have conversations, and repeat.
Download this social media planning calendar and put it to good use for your campaign and you can track and plan it all. Plus it is fun to look back to where you were and look forward to where you are going.

Need help with your social media campaigns? I am available for consultation or training for your staff or I can assist with your post creation and implementation. Just send me an email and we can talk!
Save