People hate competition, especially when you're a small-business owner. Perhaps in a small town competition can be tough. But giving in and giving up to your competition is never the answer. However, there are ways that using the competition can actually help your business. Why not look to your competition to improve your own local business?


How do you do that?
One of the first things you have to do is be brutally honest about your business's issues. Are you missing out on certain functions that you should be doing? What do you know you need to improve to grow your business? Make a list and be ready for some change.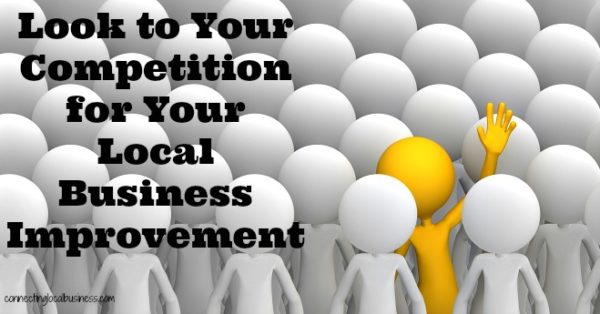 Look to Your Competition for Your Local Business Improvement
There are many ways to look at what your competition is doing, either good or bad,to make positive changes in your own business. Here's a list of things you might want to look at:
Social Media –
Are they using it? If so, are they using it well?
What types of things do they post?
How often do they post?
Are the interacting with their customer?
Where are they located on social media?
How often do they post on each social media channel?
Website
Do they have a website?
Is it updated often?
Do they use a blogging function? If so, what are they writing about?
Do they share that information on social media or do they just write it and forget it?
Do they post often or once in awhile?
Do they have clear, crisp images?
Is their site mobile friendly?
Is the site pleasing to the eye with fresh updates to the theme?
Local advertising
Do they use it?
What formats do they use?
How often do they use it?
Do they use paid advertisement on social media? If so, what sites and what type of engagement are they getting?
Products
Do they have the same products all the time?
Do they freshen and bring in new items on a regular basis?
What's the pricing like? Are you competitive?
How do they package their goods?
What are the surroundings like? Decor; Little things that make a difference in the shop.
These are just some things off the top of my head. You can certainly do a more in-depth review of what your competitor is doing online and offline to determine what's missing in your business. Maybe you're doing things better than they are. Maybe you're not doing things as good as they could be.
I'm not saying that you have to change something and do it like they are exactly, but if there is room for improvement or they are marketing in a way that's more effective, perhaps it's something you want to look at for your own local business.
Be open for improvements if need be, and always be open to improve and change your strategy.
Have you done a competitive market analysis before? How has it helped your business?
Sign up for my email newsletter and get more tips like these each time I get around to posting…